Brewer buys McEwan's and Younger's Scottish ales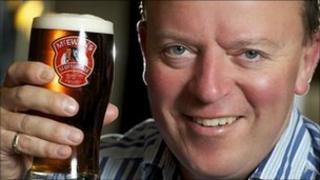 Leading Scottish beer brands McEwan's and Younger's have been sold to a Bedfordshire-based family brewery.
The ales were bought from Heineken UK by brewers Wells and Young's for an undisclosed sum.
The firm said it would continue brewing McEwan's draught ales at the Caledonian Brewery in Edinburgh.
Wells and Young's also plans to create a Scottish office to support the brands and the brewer's wider range of beers in Scotland.
Younger's and packaged McEwan's beers will continue to be brewed at other sites based in England.
The two brands generate annual retail sales of about £80m in the UK.
Nigel McNally, managing director of Bedford-based Wells and Young's, said it was "a significant and major acquisition".
'Fantastic brands'
He continued: "With 150 years of Scottish heritage, we will invest and nurture these fantastic ale brands and give them a new lease of life, whilst always putting their heritage first.
"That's why we will continue to brew in Scotland, establish an office in Edinburgh and invest heavily in marketing."
Mr McNally added: "As well as extending the popularity of McEwan's and Younger's in Scotland, we will work hard to increase their availability and fame in the rest of the UK and abroad."
Heineken UK managing director Stefan Orlowski said: "We are delighted to have reached this agreement with Wells and Young's.
"We have a long term and valued relationship with them and they have already demonstrated that they can bring their expertise and investment to brands such as Courage.
"We know that the McEwan's and Younger's ales will complement their portfolio perfectly."