Canada seeks new Scottish business links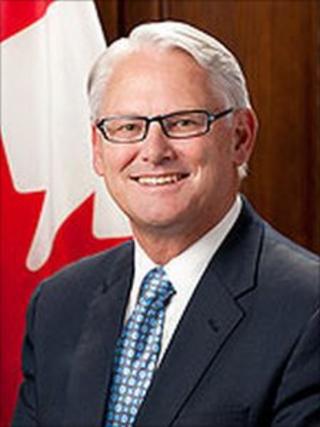 Canada's top representative in Britain has said there are strong prospects for partnership with Scottish financial services.
On a visit to Edinburgh, Gordon Campbell also defended his country's record on carbon emissions.
It faces action from the European Union against imports of oil derived from tar sands.
The High Commissioner said Canada is investing some of its oil wealth in renewable energy sources.
Mr Campbell added that the opposition to oil from tar sands in Alberta - which is extracted using large amounts of energy - does not stop the demand for oil going up.
After meeting business representatives and Scotland's finance secretary John Swinney, Mr Campbell said the comprehensive trade agreement being negotiated between the European Union and the Ottawa government will open up possibilities for deepening ties that are already strong.
In financial services, Canada's banks emerged from the bank crisis and credit crunch in better shape than many in the US and UK.
"I think you'll see a lot more activity from Canada into the United Kingdom and into Europe," he said.
"The fundamentals between what our financial institutions have been practising in Canada and what many other institutions are trying to do in other parts of the world are in alignment. So the question is how you build long-term, lasting and resilient partnerships".
Scottish Development International, the Scottish government's overseas trade arm, has a presence in Toronto and Calgary, and Mr Campbell said he hopes such links can spread further: "Our Scottish heritage is very deep in Canada, we have four million people with Scottish heritage.
European Commission
"Plus there's a real comfort particularly of major companies here, Suncor or CNR, already investing significantly and successfully in Scotland, with 5000 direct employees in that industry.
"You want to expand that business, and when you have a willing partner, it's much easier to walk through the door of opportunity."
One of Mr Campbell's main tasks will be lobbying against the draft Fuel Quality Directive being considered by the European Commission, which would block imports of Canada's oil from tar sands.
There are also protests in the USA against a proposed pipeline linking the tar sands production with the Gulf of Mexico. And Royal Bank of Scotland is among those being targeted by environmental activists for its role in lending to tar sands producers.
"We understand there's going to be a quality fuels directive," said the High Commissioner. "What we are advocating: make it transparent what the goals are, let's use sound science to apply those principles to all sources of energy, not just one, and let's make sure we understand how it's implemented."
He continued: "It's significant, because the issues we're facing with regard to energy are global. The oil sands have the same kind of impacts as many other sources of energy globally.
"To pick out one doesn't answer the problem. In Canada we have an enhanced regulatory code with regard to that energy source, we are working on alternative energies right here with a lot of the activities taking place in Scotland."
Mr Campbell said provincial governments are investing heavily in alternative fuels, including carbon capture and storage.
"We're trying to work with partners in the US, the EU and around the world to make sure we meet our obligations, but we're clear about the fact that everyone is demanding more energy, so we have to recognise emerging markets are going to be energy hungry."