Scottish and Southern Energy ends nuclear power plan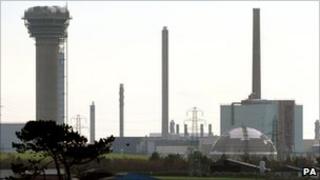 Scottish and Southern Energy (SSE) has announced it is pulling out of a deal to develop a new nuclear power station.
The energy company is selling its 25% stake in NuGeneration Ltd (NuGen), which it set up with two other companies, GDF Suez and Iberdrola.
NuGen was considering building a new nuclear power facility near Sellafield, in West Cumbria.
SSE, which has never operated in the nuclear sector, said it wanted to focus on renewable green energy.
A statement released by the Perth-based company, which trades as Scottish Hydro, said it had concluded that, for the time being, its resources were better deployed on business activities and technologies where it has the greatest knowledge and experience.
NuGen has an option to purchase land for the development of a new nuclear power station near Sellafield.
Cautious approach
Alistair Phillips-Davies, generation and supply director of SSE, said: "We have made it clear from the start of our involvement in NuGen that for SSE our core investment in generation should be in renewable energy.
"At the same time, it made sense to be part of NuGen to help establish whether some participation in new nuclear power stations would be the right thing for SSE, given we have no experience of ownership or operations in the nuclear sector.
"We have always adopted a cautious approach to the financial and other issues associated with nuclear power development. NuGen will have to make a multi-billion pound investment decision around 2015, but even getting to the point of that decision will absorb, from now on, significant financial and management resources from everyone in the joint venture."
He said SSE may become involved with nuclear energy again at a future date but for the moment the company would continue to concentrate on developing wind, marine and hydro power.
Critics of nuclear power have welcomed SSE's withdrawal from the nuclear proposal, saying it is in line with others who are opting out of nuclear power, due to its cost and following the leaks from the Fukushima nuclear plant in Japan earlier this year.
Dr Dan Barlow, of WWF Scotland, said: "The statement from SSE makes plain that they have major concerns about the viability of new nuclear.
"This decision should send a clear warning to those backing a nuclear revival that the risk is just too great.
"We call upon those companies left in the consortium, including Scottish Power's owners Iberdrola, to now abandon their nuclear plans too."
SNP MSP John Wilson, who is also deputy convener of the Scottish parliament's energy committee, said the move was further evidence new nuclear power stations must become a thing of the past.
He added: "SSE's withdrawal vindicates the stance of the Scottish government on renewables and shows that the direction of travel is now toward renewables and away from nuclear power.
"Scottish and Southern's attitude is increasingly widespread in the energy sector and shows how well placed Scotland is to meet the targets for renewable energy set out by the Scottish government."