IndigoVision reports sharp decline in pre-tax profits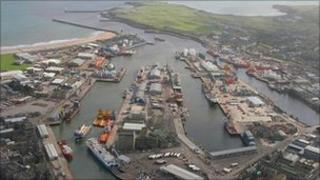 Edinburgh-based surveillance firm, IndigoVision, has reported a sharp fall in pre-tax profits from £3.1m to £1.2m.
However in the twelve months to the end of July, the group's revenues rose slightly to £28.9m.
IndigoVision develops and makes internet-based video security systems which are used in airports, casinos and border crossings worldwide.
Latin America showed the strongest sales growth - rising by more than 41% with a 16% increase in Asia Pacific.
Sales fell in North America by 3% and increased sales of 18% in Northern Europe were offset by a 12% reduction in business in the UK, and by 9% lower sales in Southern Europe, Middle East and Africa.
The fall in UK sales was largely expected due to public spending cuts.
Oliver Vellacott, Chief Executive, said: "We have had a slow start to the current financial year and although sales in the first seven weeks of the current year are approximately in line with last year, order intake is down on the corresponding period last year.
"However we remain concerned about the impact of current economic conditions."
Company chairman, Hamish Grossart, said: "We remain confident in the longer term potential of the business, but realistic that in the short term the performance of IndigoVision is likely to be muted."