Apache buys ExxonMobil North Sea assets worth $1.75bn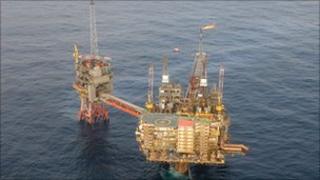 American oil and gas company Apache Corporation has bought North Sea assets from ExxonMobil in a deal worth $1.75bn (£1.1bn).
The deal, which includes the Beryl field, will increase Apache's North Sea production by 54% and its reserves by about 44%.
The US company said the assets were the best it had seen in the North Sea since it bought the Forties field in 2003.
ExxonMobil said it would continue other joint ventures in the North Sea.
It said it still had an interest in about 40 fields in the area.
Apache's newly acquired fields produce 19,000 barrels of oil and 58 million cubic feet of gas a day.
Last year, 13% of its oil and gas production revenue came from the North Sea.
The company's chairman and chief executive, G. Steven Farris, said: "Over the past eight years, Apache has demonstrated the ability to increase the efficiency of mature North Sea assets, find new reserves to extend field life, and operate in a safe and environmentally responsible manner."
Oil economist Prof Alex Kemp, of the University of Aberdeen, told BBC Scotland the deal should stimulate more investment in the North Sea.
He said: "We have got Apache committing as a company to a bigger and bigger role in the development of the mature fields."
A number of the world's major oil companies have put some of their North Sea oil fields up for sale to concentrate on larger developments elsewhere in the world.
Earlier this year, ExxonMobil said it was selling its interest in four blocks in the North Sea as part of plans by the world's largest public company to shed peripheral properties.