Cairn Energy shareholders vote for sale of India stake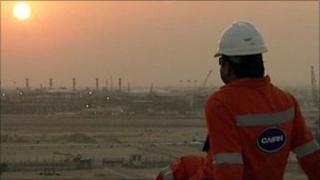 Oil explorer Cairn Energy has been given the green light by shareholders to sell a stake in its Indian operations to metals company Vedanta.
The sale has been planned for more than a year but was held up after the Indian government imposed costly conditions on the deal.
Ministers in Delhi wanted a change to the payment of royalties on oil recovered from the country.
More than 97% of shareholders voted to accept the conditions.
Earlier this year, cabinet ministers in Delhi decided to change the terms under which Cairn Energy was encouraged to explore for oil in the Rajasthani desert.
That deal was struck before any oil was found, when Indian authorities were keen to make it attractive for foreign companies to drill for oil.
The original terms forced ONGC, the majority state-owned Oil and Natural Gas Corporation, to pay all the royalties on any oil extracted from Cairn India's massive Mangala oil field in Rajasthan.
The ONGC has been pushing to reduce its liability and now the Indian government has decided to make the cost of those royalties recoverable - meaning profit can only be taken by shareholders such as Cairn Energy or Vedanta once the royalty payments have been accounted for.
Edinburgh-based Cairn currently owns 52% of its spin-off partner Cairn India, while Vedanta owns 28%.
The Scottish group plans to sell a total of 40% of its Cairn India stake to Vedanta in a two-stage deal worth nearly $6bn.
The first tranche of 10% was sold in July and realised $1.4bn, while the sale of the second tranche of 30% remains to be completed.
That sale was approved by the Government of India in June, subject to certain conditions, and is expected to realise about $4bn.
Cairn is currently drilling offshore Greenland but has so far had little success.