Scottish housing market 'remains subdued'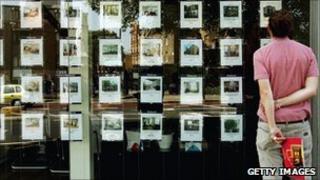 The Scottish housing market remains subdued amid continuing economic uncertainty, according to surveyors.
A report by the Royal Institution of Chartered Surveyors has also suggested a lack of mortgage finance is deterring potential buyers.
Two-thirds of surveyors questioned said house prices were unchanged in August, while 28% said they had dropped.
Surveyors also expected the number of sales as well as house prices to decline over the coming months.
Nearly 90% of respondents cited general economic uncertainty as a reason why they felt sales levels continued to be subdued.
Just under 80% felt a lack of mortgage finance was impacting negatively on transactions.
Buyer demand
A quarter (26%) of the surveyors added that fears over house price falls were affecting transaction levels, as buyers stayed away from the market while they waited for things to improve.
The report indicated that new buyer inquiries - which signal buyer demand - slumped in August.
However, new instructions rose slightly, suggesting those who really wanted to move were not being deterred by the lack of buyers.
RICS Scotland director Graeme Hartley said: "Scottish buyers are worrying about the economy and whether they can afford a mortgage.
"So they are unwilling to make what is probably the biggest purchase of their life, until there is stability.
"But until first time buyers take the plunge, the rest of the market will move slowly."