Insulation company Superglass issues debt warning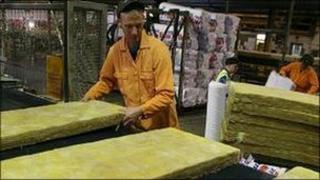 Shares in troubled insulation manufacturer Superglass have soared on news it has secured a £2m grant.
The firm, which recently announced plans to raise about £9.5m from investors as part of a financial restructuring, was awarded Regional Selective Assistance (RSA) funding.
Superglass said the cash would help it implement a capital investment programme.
The move will help safeguard nearly 190 jobs at the firm's Stirling base.
Shares in Superglass initially jumped almost 31%, following recent hefty losses.
n tSuperglass warned it would not be able to service its debt to Clydesdale Bank without a debt-for-equity swap it recently agreed with the lender.
As well as RSA, the company is receiving support from Scottish Enterprise, including assistance with improving efficiency and reducing operating costs.
Superglass chief executive Alex McLeod said: "I am delighted that we have been successful in obtaining RSA funding. This award reaffirms the Scottish Government and Scottish Enterprise's commitment to the Scottish manufacturing sector.
"It will, when combined with the support we have received from investors and Clydesdale Bank, enable Superglass to implement a capital investment programme at our Stirling manufacturing plant which will improve our operational efficiency and competitive position, while creating and safeguarding jobs."
Enterprise Minister Fergus Ewing: "I am delighted that this funding will further secure the jobs of 187 employees, as well as ensure the continued future success of a major company in the Forth Valley area.
"The Scottish Government and Scottish Enterprise are working hard to promote Scotland as an attractive and competitive location to do business."
Lena Wilson, chief executive, Scottish Enterprise, said:
Superglass began manufacturing at its Stirling site in 1987 and is a major supplier of glass wool insulation products for the construction industry.
It has been listed on London's Alternative Investment Market since 2004.