Milngavie firm strikes oiler kit deal with BMW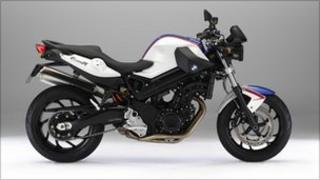 A small Scottish firm which specialises in oiler kits for motorbikes is poised for a major expansion after striking a deal with BMW.
Milngavie-based Scottoiler's unique chain lube system has become an approved after-sales accessory for a range of bike models.
BMW will sell the kits at its 1,200 dealerships around the world.
Scottoiler said the move could bring dozens of jobs and boost turnover five-fold over the next five years.
Managing director Fiona Scott Thomson commented: "A couple of years ago we released a kit specifically for the BMW F800GS bike. BMW Munich then got in touch and it is now an approved accessory sold through them.
"It is one of only three twin-branded approved BMW accessories, so that's a huge feather in our cap."
The system also fits BMW's F650GS and F800R models so the potential market with BMW alone is up to 30,000 bikes.
Expansion plans
The firm, which has sold about 350,000 units since being formed in 1984, hopes turnover will increase from about £1m a year to £5m over the next five years.
It also plans to boost staff levels from the current 17 to about 50 over that time.
Scottoiler currently exports to 36 countries and says there is still room for growth in its current markets.
The first oiler was invented by Ms Thomson's father, Fraser Scott, more than 25 years ago.
He came up with the idea after he found himself having to continually adjust or change his bike chain when he was commuting from Glasgow to Manchester on a regular basis to meet with a girlfriend.
The kit works by continuously supplying oil to motorcycle chains.
Ms Thomson explained: "With the kit, you are putting on small oil reservoir on the bike. It opens when the engine is started up and it delivers one to two drops of oil a minute directly on to the chain when it needs it. So it extends chain life and takes away all chain maintenance."
At the moment, the oiler kit is an after-sales accessory but Scottoiler is hopeful it could eventually become a series supplier, with units fitted on to BMW models in production in Berlin.
Ms Thomson added: "BMW are one of the most prestigious names, and to become not only approved, but twin-branded, shows how strong the Scottoiler name is. Hopefully it will open doors with other manufacturers."