Royal Navy Type 45 destroyer sets sail from Clyde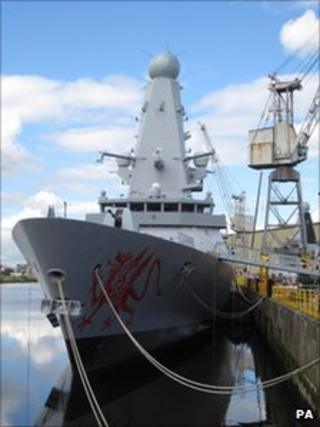 The latest hi-tech warship built for the Royal Navy has left the Clyde to be handed over to the Ministry of Defence (MoD).
The Type 45 destroyer, Dragon, is the fourth ship of its kind built by BAE Systems in Glasgow.
A joint team from the shipbuilder and the Royal Navy has taken charge of the vessel for its journey to Portsmouth.
As HMS Dragon, the vessel will be one of six of its type, equipped with Sea Viper anti-air missiles.
Each will be able to carry 60 troops and has a large flight deck, able to accommodate a helicopter the size of a Chinook.
In removing civilians from an emergency situation, 700 people can be taken on board.
Commanding officer Darren Houston said: "Dragon is in top condition for the rigours of the next stage of her sea trials and the challenges ahead.
"The Royal Navy and BAE Systems have worked in close partnership to make Dragon the best of her class, ready to fight and win."
A ceremony has been planned for the ship's arrival at Portsmouth, in which the BAE flag will be taken down and replaced with the White Ensign.
Three Type 45 destroyers have already been commissioned: Daring, Dauntless and Diamond.
Work continues on the two remaining ships in the series, Defender and Duncan.