Businessman Jim McColl sells Clyde Union Pumps for £750m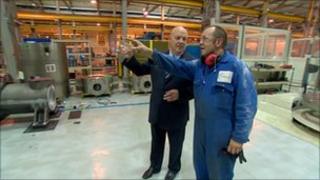 The Scottish entrepreneur Jim McColl has sold the business where he was once an apprentice in a deal worth £750m.
Clyde Union Pumps was formed out of Weir Pumps, which Mr McColl bought four years ago, and Union Pumps which he bought the following year.
The company is being bought by American firm SPX Corporation, but will continue to be run out of Glasgow by the same management team.
Clyde Union employs more than 2,000 people worldwide.
About 900 of those work at the Glasgow site at Cathcart.
SPX, which has its headquarters in North Carolina, is an engineering company with annual revenues of $5.5bn and it employs more than 15,000 people in 35 countries.
Mr McColl, who is one of Scotland's richest men, started his career as an apprentice when he was 16 at the former Weir Pumps business.
He will play no part in the management of the company after the sale.
He said there had been a lot of interest in buying the company over the years but the response was always that the company "was not for sale" because there was "significant growth opportunities".
But Mr McColl revealed that after discussions with the chairman and chief executive of SPX, he had received a number of assurances.
He added: "A very important part of our discussions has centred around us being convinced that SPX would be a good responsible owner of this business and would continue to support its growth.
"I made it clear to them that I had more invested in the company than just money. I told them I had strong emotional investment, and I genuinely wanted to see the business and the employees go on and prosper."
Clyde Union will be part of SPX's Flow Technology business.
Don Canterna, president of the division, said: "SPX has a very strong track record of successful acquisitions and we have demonstrated an ability to repeatedly create value by partnering with high quality companies like Clyde Union Pumps."
He added: "We see tremendous value in Clyde Union's products, brands, factories, and most importantly, its people. Americans know and respect Glasgow and Scotland's place in engineering heritage."
Mr McColl will continue to run the industrial investment company Clyde Blowers Capital.