Scottish house prices drop 3.7% in past three months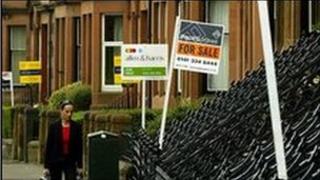 Scottish house prices fell by 3.7% in the past three months, according to Lloyds TSB Scotland.
The bank's Scottish house price monitor reported the average Scottish house price was £152,565, almost the same level as early 2007.
In the three months ending July 2011, the quarterly price index for the average domestic property in Scotland fell by 3.7%.
The number of sales was reported to be low, but had increased since winter.
House purchases recorded in the last quarter was 27% up on the previous three months.
However, the number of housing market transactions were still less than half pre-recession figures.
Donald MacRae, chief economist for Lloyds TSB Scotland, said: "The Scottish housing market has adjusted to the recession with a halving of sales and a period of volatile price movement over the last three-and-a-half years.
"Average house prices in Scotland are now only marginally up on the levels of four-and-a-half years ago."
A drop in disposable income because of retail inflation exceeding earning increases had hit consumer confidence, he said.
Mr MacRae added: "The Scottish housing market did experience the normal effect of spring this year on sales and purchases but the impact was muted.
"The Scottish housing market awaits a resurgence of both business and consumer confidence for a faster recovery."