Scottish salmon export growth 'continues'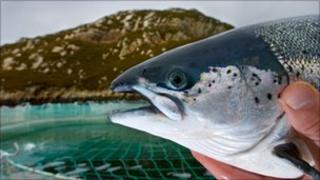 Scottish farmed salmon is continuing to show record export growth, according to latest official figures.
Exports leapt by 37% year-on-year in the first five months of 2011 to reach almost 35,000 tonnes.
The figures were released as Environment Minister Stewart Stevenson attended the international aquaculture trade show Aqua Nor in Norway.
Mr Stevenson is due to meet fisheries ministers from Norway and Chile during his visit.
The Scottish delegation at Aqua Nor, which includes Scottish Development International (SDI), Highlands & Islands Enterprise (HIE) and the Scottish Salmon Producers' Organisation (SSPO), is aiming to encourage investment in the industry.
Mr Stevenson said: "Last year salmon accounted for 36% of the value of Scottish food exports, while the industry also provides much-needed employment opportunities in our fragile rural communities.
'Key product'
"It's important that we continue to promote this key product and encourage further investment in the industry, as well as working with others internationally on ways to continue improving the environmental sustainability of aquaculture."
"These are areas I will be discussing with my Norwegian and Chilean counterparts, while also sharing successes Scotland has had in the development of our industry," he added.
SSPO chief executive Scott Landsburgh said his organisation welcomed the "joined-up approach" to attracting further investment in the sector.
He added: "The salmon farming sector has made around £150m in capital investment during the last five years - the vast majority of this has been in the Highlands and Islands.
"Salmon farming is capital intensive and this initiative will help to inform future investment strategies in remote, rural economies in Scotland."