Cairn Energy oil spill plans published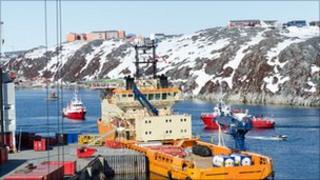 Cairn Energy's Arctic oil spill contingency plans have been published by the Greenland government.
The move follows a series of protests by Greenpeace activists, who disrupted the exploration firm's drilling activities off Greenland in a bid to force publication of the plans.
Officials said they released the plans after their "options for countering sabotage actions" had improved.
Edinburgh-based Cairn said it welcomed the move.
News of the publication came as Shell estimated more than 200 tonnes of oil could have entered the North Sea after a leak in a flow line leading to the Gannet Alpha oil platform 113 miles (180 km) off Aberdeen.
In a statement, the Greenland government said it had been necessary to keep Cairn's contingency plans confidential until now because of the "large number of unlawful actions aimed at the safety measures at oil exploration".
It said: "The opinion has been that it would be possible to launch even more attacks against safety if the plans were presented openly."
Arctic protests
Greenpeace has staged a number of protests at Arctic drilling operations over the past year.
They included one incident in April, when 11 Greenpeace activists forced entry onto the drilling rig Leiv Eiriksson in Turkish waters while it was on its way to Greenland.
In another incident in June, 18 activists broke through the rig's safety zone and locked themselves into its crane cabins.
Responding to the publication the response plan Greenpeace oil campaigner Ben Ayliffe said there was a "lot of spin" and "very little to allay the concerns of experts".
He added: "Cairn never wanted to release this document, they were forced to by international outrage from tens of thousands of people who bombarded them with emails. In a classic PR move they've now published the plan late in the day European time.
"Our experts will now analyse it and fully expect it to confirm what the UK government said in private documents, that an Arctic spill would be 'near impossible' to clean up."
Greenland officials said following evaluation of the Greenpeace incidents by the ministry of foreign affairs in Denmark, it was now possible for authorities to take measures against "unlawful actions" within a radius of 5 km from the safety zone around drilling operations.
Ove Karl Berthelsen, Greenland's Minister for Industry and Mineral Resources, said: "The government and the Bureau of Minerals and Petroleum (BMP) have always wanted to make the plans available to the people of Greenland.
"We had reasonable concerns, however, that the balance between transparency of information and the possible impact on safe operations was outweighed by the regular violation of safety procedures.
"We are now confident that the security of operations is better protected to the extent that we now feel able to provide people in Greenland with access to as much information as possible about our country's search for hydrocarbons."
'Safety focus'
Cairn Energy chief executive Simon Thomson said his company was pleased to share its plans with the people of Greenland.
He continued: "Throughout our operations globally and including offshore Greenland, we are focused on safety both in terms of people and the environment.
"Safety is our priority and the focus of our operations remains on prevention.
"We have state-of-the-art equipment and a team of experts with more than 1,000 man years experience in similar environments for the 2011 offshore Greenland exploration programme."
He added: "In the unlikely event of a serious incident, such as an oil spill, we believe we have put in place a thorough and robust contingency plan."
Cairn, through its subsidiary Capricorn, operates 11 blocks off Greenland which cover an area of approximately 102,000 square kilometres.
It plans to drill up to four wells off Greenland this year.