Scottish salmon producer signs Russia deal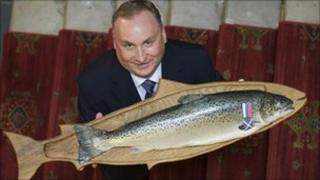 The Scottish Salmon Company has broken into the Russian market for the first time.
The Edinburgh-based firm said it had signed a deal to supply an unspecified amount of salmon to Russia, following months of negotiations.
The Scottish Salmon Company already supplies to countries such as Japan, France, the Middle East and the USA.
The first shipment of fresh, whole salmon was delivered to Russia this week.
The firm, which reported an annual turnover of £92.4m in 2010, said it expected Russia to account for 5% of export sales.
Stewart McLelland, chief operating officer of the Scottish Salmon Company, said: "This is a very exciting deal for us as a company, expanding our export market into this previously untapped region.
"Russia has one of the fastest growing demands for salmon so introducing them to a prime Scottish product now is very timely.
"We are proud to be sealing this pioneering deal and building our reputation in Russia."
The Scottish Salmon Company was recently chosen as the best marine aquaculture company at the Scottish marine aquaculture awards.
It has over 350 employees working from 40 sites in the Hebrides and west coast of Scotland.