Engineering firm Weir Group's share price recovers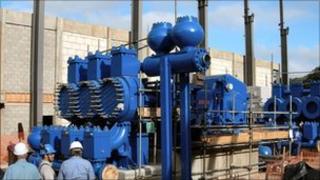 Glasgow-based engineering firm Weir Group's share price has climbed again after falling sharply on the London stock exchange.
The company's shares fell 8.7% in value on Monday, to reach 1,580p.
But by end of trading on Tuesday, the share price rose to 1,703p - having slipped back to about 1,570p earlier in the day.
On 26 July, it peaked at 2,218p - representing a fall of 29% in just 10 days.
The falls came despite chief executive Keith Cochrane announcing a sharp rise in first-half profits last week, and a rise in his expectations of full-year profits.
The share price was part of the 3.4% decline in the FTSE index on Monday, in which stocks in the mining and commodities sector - more exposed than most to a slowdown in growth - suffered some of the biggest declines.
Kazakhmys, Vedanta and Xstrata saw similar scale falls to Weir.
The accelerated decline for Weir Group on Monday was also partly explained by an analyst's note from Morgan Stanley, that argued Weir Group had been over-valued.
Stock 'overweight'
It was positive about the position of the company in the worldwide mining equipment, oil and gas engineering and power station sectors, in which it has delivered strong results in recent years.
But the analysis said the price was "up with events", and recommended investors should treat the stock as "overweight" - or liable to fall, based on underlying factors.
Morgan Stanley commented: "Weir is highly geared to commodities and therefore to global growth.
"Macro-economic uncertainty and any signs of a slowdown in China could cause signs of a sector-wide slowdown."
It added Weir's management had "an active acquisition policy, which presents integration risk".