Scottish first-time buyer numbers fall, says report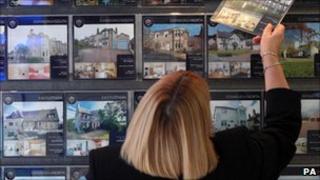 The number of first-time house buyers has fallen over the past year despite an improvement in affordability, according to a Bank of Scotland report.
The bank estimated there were about 7,500 first-time buyers in Scotland in the first half of 2011 - a fall of 15% from the same period in 2010.
This was despite an increase in the number of towns and cities across Scotland it calculated as affordable.
The report said challenges in raising a deposit were one reason for the fall.
Based on Bank of Scotland's own data, the average price paid by someone looking to get on to the property ladder was affordable for someone on average earnings in 77% of local authority areas.
This compared with 38% at the peak of the housing market in 2007.
The proportion of affordable areas in Scotland was significantly above the UK average of 48%.
First-time buyers in Scotland put down an average deposit of £19,429 in the first half of 2011, equivalent to 18% of the property price.
Across the UK, the average deposit was £27,219, equivalent to 21% of the property price.
Bank of Scotland housing economist Suren Thiru said: "It is encouraging that housing affordability for first-time buyers in general has improved significantly over recent years as a consequence of the marked falls in both house prices and interest rates since 2007.
"Despite the marked improvement in affordability, conditions in the housing market for those looking to take their first step on to the property ladder remain difficult."
She added: "The significant challenges in raising a deposit and widespread pessimism about the chances of being accepted for a mortgage are stopping many prospective first-time buyers from entering the market."
The Bank of Scotland first-time buyer review tracks housing affordability in nearly 250 local authority areas across the UK, including 26 in Scotland.