Engineering firm Weir Group unveils record profits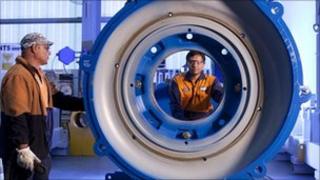 Glasgow pumps and valve maker, Weir Group, has unveiled record sales, profits and orders.
The company said it increased profits in the first six months of the year by 24% to £178m.
Weir has put its success partly down to its "exposure to markets with rising global demand".
However it said unrest in Libya meant it had to abandon some work in the country and it also led to "delays in new project awards."
Weir, which supplies customers in the mining, oil and gas and power generation, predicted its full year results would be better than originally expected.
Company chief executive Keith Cochrane, said: "Strong order trends in our minerals division, as well as an excellent performance from our upstream oil and gas operations, demonstrate our ability to serve market needs by executing effectively on our strategic growth agenda.
"The group will continue to invest to grow ahead of our end markets and we now expect profits for the full year to be somewhat ahead of our previous expectations."
In the company's minerals division, Weir said "buoyant market conditions in South America" had led to a number of "significant" orders.
Its oil and gas division delivered a 41% increase in operating and the company said it was increasing investment to expand the unit by about £50m.
Weir, which employs more than 12,000 people around the world, has benefited from the rapid expansion of shale oil and gas exploration and production in recent years, particularly in the US, and from growing demand for commodities in China.
Last week Weir announced it was selling its pumps site at Cathcart in Glasgow to Clyde Union for £25m.
The property had been leased to Clyde since May 2007 for about £45m.