Scottish food exports pass £1bn mark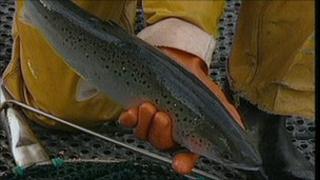 Scotland's overseas food sales passed the £1bn mark last year, according to HM Revenue and Customs figures.
Food exports, which were boosted by strong sales of salmon and potatoes, were also helped by the fall in the value of sterling.
Nearly two-thirds of food sales came from fish and shellfish, which were up by 12% in the year.
Fresh salmon was up by 20% to 78,600 tonnes of exported fish, with the USA accounting for nearly 32,000 tonnes.
Whisky continued to dominate the food and drinks export trade.
Export sales by value were up 10% at £3.45bn, according to the HMRC figures, taking total food and drink exports to £4.5bn.
In whisky, the US market grew strongly at 19% to £499m.
But less traditional markets for distillers were also doing well, with India up 46% to £31m and Russia up 61% to £31m, after a sharp fall in whisky trade with that country's recession.
Growing markets
Seed potato exports were strongly up amid 54% growth in value of fruit and vegetable exports overall.
The fastest growth in food export markets was recorded in Poland (up 139% on 2009) and the United Arab Emirates (up by 114%), while Germany was up 29%, the USA up 25%, Canada up 24%, Japan up 22% and France up 15%.
France remained Scotland's top export market in Europe, followed by Ireland and Spain.
Anne MacColl, chief executive of Scottish Development International (SDI), the government's trade promotion agency that extracted the HMRC figures, said the numbers could be explained by hard work and networking.
She said: "The numbers show that traditional export markets such as Europe and the US are proving very attractive to Scottish companies, but we can't underestimate the opportunities further afield in Asia.
"Thanks to the competitive exchange rate, Scottish goods are now up to 40% cheaper than they were two years ago, and Asia has plenty of high net worth individuals who have money in their pockets.
"Our message to Scottish companies is to be bold and broaden your horizons. The opportunities are out there, and SDI can help you achieve your ambitions."