Scots and Chinese strengthen trade links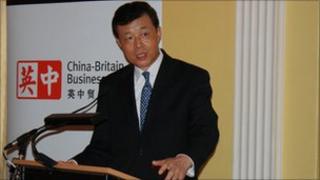 Scottish trade links with China have been strengthened during the Chinese ambassador to Britain's first official visit to Scotland.
Mr Liu Xiaoming witnessed the signing of new partnership schemes between the countries at a ceremony in Glasgow.
They included the creation of business clinics, designed to help Scottish firms pursue business in China.
Additional supporting services such as training and market research will also be available to companies.
The China-Britain Business Council (CBBC) announced the new schemes with Scottish Chambers International (SCI) and the Scottish Council for Development and Industry (SCDI).
The parties signed two memoranda of understanding (MoU) aimed at promoting trade and investment between Scotland and China.
Business clinics
The China Business Clinics are designed to help and support companies with their Chinese business strategy on a one-to-one basis.
As part of a China Ready programme, CBBC and SCDI will also collaborate on projects in Scotland, as well as continuing to support companies participating in SCDI trade visits to China.
During his first visit, Mr Liu was due attend a business banquet hosted by CBBC in Glasgow to address more than 100 guests from Scottish businesses, education and the public sector on China's current political and economic development.
He was also expected to outline his plans and thoughts on the future relationship and commercial ties between China and Scotland.
SCDI chief executive Dr Lesley Sawers said 2011 marked the 40th anniversary of the organisation's initial drive to introduce Scottish business to China.
She continued: "Following our historic trade delegation to the People's Republic of China in 1971, we have consistently promoted China as a market of huge opportunity for Scotland.
"This MoU is a key part of the celebrations of a milestone year for SCDI.
"It signifies our continued commitment to work closely with CBBC, and will ensure our on-going China visits will result in even more Scottish businesses maximising their global potential."
'Huge opportunity'
CBBC chairman Sir David Brewer said: "Partnerships are crucial in today's increasingly globalised world.
"Both SCI and SCDI have recognised the huge opportunity that China represents for Scottish companies.
"We are delighted that they have also recognised that CBBC is the ideal partner with whom to work to ensure that their members capitalise on these opportunities."
Last January, Scotland and China sealed a major green energy deal during a visit to Edinburgh by Chinese Vice Premier Li Keqiang.
The agreement, worth $10m (£6.4m), will see technology pioneered in Scotland used at a new renewable energy conversion plant in China.
The licensing deal was reached between Sino-Scots firm Shanghai Huanuan Boiler and Vessel Co/Cochran and Scotland-based engineers W2E Engineering, which specialises in generating electricity from domestic refuse.
In a separate development, an agreement outlining how the UK and China will work together to boost vocational learning in both countries was announced.
A memorandum of understanding was signed during an official visit to Beijing by further education and skills minister John Hayes.
The agreement will last for the next three years.