Energy supplier SSE suspends all UK doorstep sales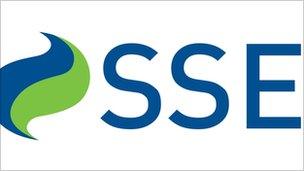 Scottish and Southern Energy (SSE) has halted all of its doorstep sales activity in the UK, with the loss of up to 900 jobs.
The move comes two months after a court found SSE's sales agents had used misleading sales scripts when talking to people on their doorsteps.
The firm said commission-based doorstep selling was "no longer an effective way" to gain customers.
It will continue other activities such as online and direct mail sales.
SSE was found guilty at Guildford Crown Court in May of tricking people into switching from their existing energy firms, between September 2008 and July 2009.
It had claimed they were paying too much to their current suppliers when this was not the case.
SSE was found guilty on two counts out of seven charges brought under the unfair trading practices regulations.
The company, which is appealing the conviction, announced it had decided to suspend all of its doorstep sales activity, with immediate effect.
It now expects to close permanently its existing doorstep sales operations, "subject to consultation with affected employees".
The energy supplier cited low confidence in the way companies sold energy on the doorstep, and the way in which sales staff were remunerated, as reasons why commission-based doorstep selling was no longer an effective way to gain customers for the long term.
SSE also said the sales process "rightly" required increasingly significant customer safeguards and customers had "a growing need for objective information and help" to enable them to use efficiently the energy they bought.
The company plans to continue its venue, telephone, online and direct mail sales and customer advice activities and extend its range of affinity partnerships, which include M&S Energy.
It also intends to establish over the next year a nationwide network of community-based energy advisers.
Alistair Phillips-Davies, generation and supply director of SSE, said: "By encouraging customers to switch suppliers, commission-based doorstep sales have played an important and useful part in the development of Britain's competitive energy supply market.
"The reality is, however, that the world has moved on. We understand that fewer people are willing to engage with traditional doorstep sellers."
He added: "Changes in products, services and processes mean the energy market has matured to a stage where we believe that commission-based doorstep sales is no longer a sustainable way of securing energy customers for the long term.
"Energy companies need to earn and retain trust."
SSE said it would be consulting with potentially affected employees over ways of avoiding compulsory redundancies.
It said its objective was to minimise the number of jobs lost, through the retraining and redeployment within SSE of as many employees as possible.
Surrey County Council trading standards office, which successfully prosecuted SSE in May, said it had been "vigorously campaigning" for the last five years to encourage householders never to deal with cold-calling doorstep traders.
Kay Hammond, Surrey County Council cabinet member for community safety, commented: "There are plenty of ways for companies to promote their services but we do not believe cold calling should be one of them.
"We advise anyone approached by an unsolicited salesperson on their doorstep to decline their offer."
Related Internet Links
The BBC is not responsible for the content of external sites.