Axis-Shield resists US takeover attempt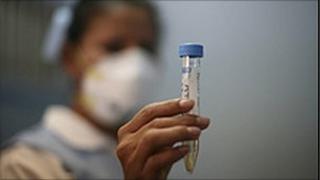 One of Scotland's leading life science companies is resisting a takeover bid from an American rival.
Dundee-based Axis-Shield has rejected the offer from Alere, which is headquartered in Massachusetts.
Alere has valued its target, which is stock exchange listed in London and Oslo, at £230m.
Axis-Shield makes a medical testing product for diabetes, branded Afinion, and another product for rheumatoid arthritis.
It is seen as having strong prospects in developing a lipid test for cholesterol as an indicator of cardiovascular disease.
Its board unanimously rejected the offer when it was privately tabled last month, saying the US bid "fundamentally undervalues the company and its future prospects".
Alere has gone public with its indicative, non-binding offer, to put pressure on the board of Axis-Shield by highlighting to shareholders the premium price being offered over the recent Axis-Shield price.
Talks sought
The US diagnostics firm cites its 460p per share offer as being 37% above Tuesday's closing price.
Since that announcement, Axis-Shield's share price has soared by almost 50% to nearly 495p.
In a statement, the bidder said: "Alere is keen to work towards a recommended takeover offer for Axis-Shield and would welcome the opportunity to discuss a possible transaction with Axis-Shield in a constructive manner."
In 2010, Axis-Shield made £7.5m pre-tax profit on revenue of £102m.
On Tuesday, the company said its half-year sales were expected to be 10% up on last year, helped by more demand for testing kits from those suffering from flu.
Formed in 1999 from the merger of Shield Diagnostics and Norway's Axis Group, it employs 110 people in Dundee, out of a total of 550 worldwide.