Milk supplier Robert Wiseman signals price hike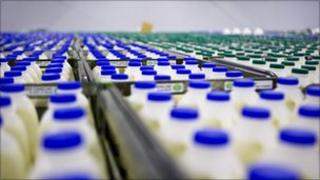 The price of fresh milk could rise following a decision by one of the UK's lead suppliers to increase its farm-gate price this winter.
Dairy group Robert Wiseman said the move would ensure the long-term supply of milk for its customers.
The East Kilbride-based firm said it had come under pressure from rising diesel and raw material costs.
The price warning came after British Retail Consortium research showed an increase in food prices in June.
Robert Wiseman, which signed a major deal with the Co-operative Group earlier in the year, said trading for the 13 weeks to 2 July was in line with expectations.
The company said sales volumes would benefit from the start of the deal with the Co-op from August, when Robert Wiseman would supply all of the supermarket's own-brand milk.
Chairman Robert Wiseman said: "Over the past 12 months, the business has experienced unprecedented pressure on margins and significant increases in input costs.
"Despite these pressures, we have continued to gain volumes and have achieved record levels of efficiency."
He said diesel costs were 15% higher in the period, compared with last year, while the cost of resin used to produce its plastic bottles was 18% higher.
He said the group continued to invest in cost-saving projects, such as new refrigeration equipment at its Manchester dairy, which had reduced gas usage by 50%.