Rise in Scottish exports welcomed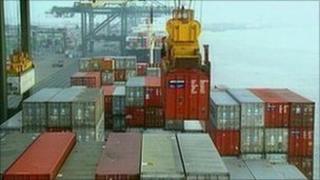 The value of Scottish exports rose in the first three months of 2011, according to new figures.
The Index of Manufactured Exports said they had grown by 3.9% compared to the previous quarter, and were up by 2.2% year-on-year.
Overseas sales of food and drink grew by 6.1% between January and March, although textiles fell by more than 8%.
The chemicals industry saw exports rise by nearly 11% but engineering companies had a 0.8% dip in overseas sales.
The statistics, published by the Scottish government, also suggested that metals and metal products experienced the strongest growth over the year, with an increase of 20%. Food and drink exports were up by more than 2%.
Enterprise Minister Fergus Ewing said: "While these figures are hugely encouraging, it is clear that our recovery is at a vital stage.
"These results are testament to the hard work and resilience of thousands of businesses across Scotland identifying and exploiting opportunities to sell into export markets."
CBI Scotland's assistant director, David Lonsdale, said the figures "suggest that the revival in Scottish manufacturing witnessed of late is becoming more entrenched, despite the recent spike in input costs.
"Encouragingly, firms are telling us that they are more optimistic about export prospects for the year ahead.
"Greater levels of trade and business investment will be crucial if Scotland is to strike a more sustainable economic model, one which is less reliant on public spending and which instead has a far greater emphasis on private sector growth."
Liz Cameron, chief executive of Scottish Chambers of Commerce, added: "The first quarter of this year was always likely to see a rebound in export growth following the severe winter, but these figures represent the best quarterly growth rate for almost four years.
"It is clear that much of our recovery remains export-led and the good news is that Scottish firms are taking advantage of the opportunities that have opened up in international markets."