Delays to Glasgow deluxe hotel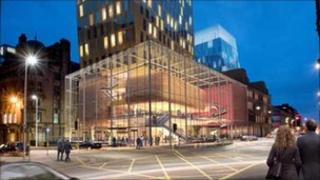 Plans for a luxury Jumeirah hotel in central Glasgow have been further delayed by the site developer going into administration.
The Dubai-based hotel group had planned to open the 26-storey six-star hotel this year, but construction work has yet to start.
With BLN Property Developers forced into administration in recent weeks, the Jumeirah Group is not saying if it still intends to press ahead with the £125m Glasgow plan.
Asked detailed questions about the new timetable for the Glasgow plan, a spokesman issued a statement that only made a commitment to the UK market in general:
"We are in regular contact with the developers and are monitoring the administration process to determine if the hotel development proceeds," he said.
"Jumeirah remains committed to the UK market and is actively looking to build on the success of its two London hotels, Jumeirah Carlton Tower and Jumeirah Lowndes Hotel."
The Jumeirah Group, which has Dubai's iconic Burj al-Arab dhow-shaped hotel in Dubai as its flagship, is expanding rapidly, and chose Glasgow's business district as one site for a new hotel.
The plan is for 158 guest rooms, 68 serviced flats, a spa and a large ballroom, on a site on the junction of Argyle Street and Robertson Street, near the SAS Radisson Hotel.
But it has been delayed by objections to compulsory purchase orders lodged by a pawnbroker and restaurant-owner who operate from the chosen site.
It is understood the administrator of BLN Property Developers, KPMG, has little expectation that the hotel project will go ahead.