Warm weather boosts sales of Tennent's lager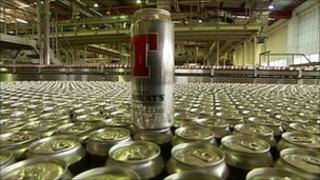 Unseasonally warm spring weather helped boost sales of the Scottish lager, Tennent's, according to its owner.
Sales of Tennent's between March and May were up 4% on the same period last year.
Dublin-based C&C Group said Tennent's recorded a robust performance - revenue from sales of Tennent's grew faster than the volume of sales a result of price rises.
It added that good progress continued to be made in the Republic of Ireland.
Overall, the company's outlook for the months ahead was less optimistic.
C&C, whose other brands include Magners and Bulmers in the Republic of Ireland, said trading in June had been relatively weak compared to last year because of poor weather. In 2010, June sales were also boosted by the World Cup.