Cairn Energy sells 10% stake in Cairn India to Vedanta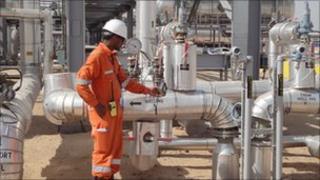 Cairn Energy has sold a stake in its Indian operation while it continues the long wait for approval from the Delhi government for a much bigger sale.
The Edinburgh-based oil explorer secured a net £854m ($1.365bn) for the 10% stake in Cairn India.
It was purchased by Vedanta, the London-listed metals company run by Indian tycoon Anish Agarwal.
Last August, Cairn Energy agreed to sell Vedanta a controlling stake in Cairn India.
It had previously floated the company on the Mumbai stock exchange.
That would release cash for investment in its Greenland drilling operation and for a pay-out to Cairn shareholders.
But that deal has been stalled while it awaits Indian government approval.
Reputation threat
There is disagreement between ministers on how to handle a claim by ONGC, the majority state-owned Oil and Natural Gas Corporation, that it should be relieved of a contractual obligation to pay all the royalties on production from Cairn India's massive Mangala oil field in Rajasthan.
That deal was struck before any oil was found, when Indian authorities were keen to make it attractive for foreign companies to drill for oil.
The threat to break a commercial contract is seen in India as a threat to the country's reputation as being attractive to international business.
UK Prime Minister David Cameron has intervened on behalf of Cairn Energy, highlighting the potential damage to India when it has already seen a rapid decline in foreign investment.
The sale of 10% of Cairn India does not need the same government approval as the controlling stake.
Lower share valuation
The price agreed between Cairn Energy and Vedanta is 9% lower than that agreed last year for its much bigger sale, in exchange for removal of a clause that would have banned Cairn from competing with Vedanta.
The net proceeds post-tax are expected to be 5.3% lower than previously planned.
If the sale of a further 30% stake in Cairn India goes ahead, the same lower share valuation will hold.
Following the sale of the 10% stake, which is due to complete by 11 July, Vedanta will hold 28% of Cairn India, while Cairn Energy will have 52%.
The intention is to move to 58% Vedanta ownership, while Cairn Energy reduces to 22%.
Sir Bill Gammell, chief executive of Cairn Energy, said: "Cairn is pleased to have secured this adjustment to the agreement with Vedanta.
"Cairn continues to believe the necessary approvals to complete the Vedanta transaction will be received and is working with the government of India in a positive and constructive manner."
Anil Agarwal, executive chairman of Vedanta, added: "Vedanta believes this initial 10% purchase is a further demonstration of its commitment to India.
"We look forward to the successful completion of the proposed transaction".