Changes cut losses at shop fitter Havelock Europa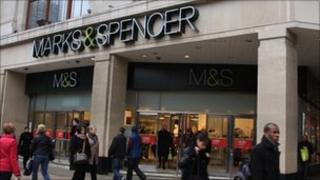 Troubled shop outfitter Havelock Europa has reported a continuing clear-out of the boardroom as it cuts losses.
The Fife-based company, which furnishes major retailers as well as schools, said the pre-tax loss for 2010 was £4.6m, down from £5.9m.
That follows tough cost-cutting. Over the past two years, the company has reduced its workforce from more than 1,000 to 750, and has tackled overheads.
Many of the jobs shed were with the closure of a specialist printing plant in Bristol. The main furniture factory in Kirkcaldy has 450 workers, having lost around 100 in the past two years.
Revenue from fit-outs of outlets including Marks & Spencer and Lloyds Banking Group, fell 8% - from £108m to £99m.
The company has previously warned of the impact of public spending cuts to school budgets, though it is claimed there are "encouraging and increased levels of inquiries" from customers.
Although a stop has been put to the new school building programme, the Dalgety Bay-based firm still has more than 35 new and refurbished schools to fit-out.
It aims to increase overseas sales, with projects already under way in China, where it is working at Marks & Spencer stores, and from continental Europe, where UK retail clients are expanding.
'Year of transition'
During 2010, there was turmoil as five board members resigned, and the company had three chief executives.
Malcolm Gourlay has announced he is also to step down as chairman next year, while board member Richard Lowery, the managing director of the interiors business, is to retire this week.
The board has only six members on it, and chief executive Eric Prescott is to take on Mr Lowery's operational role. Mr Prescott took on the top job last September, with a background in rail infrastructure.
Havelock Europa's debt has risen to nearly £20m, and while the chairman said its bank remained "supportive", the cost of servicing its debt has risen sharply.
The board is keen to get debt levels down, and it is not paying a dividend until that happens and it is back in profit.
Mr Prescott said: "This has been a year of transition in which losses have been substantially reduced, and there are encouraging signs of increased inquiries from new customers and of further potential new work overseas".