Spanish firm Gamesa chooses Strathclyde Business Park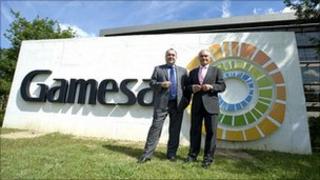 Spanish wind turbine manufacturer Gamesa is to create its offshore wind technology centre at Strathclyde Business Park, it has emerged.
The announcement followed a meeting last week between First Minister Alex Salmond and Gamesa chairman and chief executive Jorge Calvet.
Gamesa had already indicated Glasgow was its preferred location for the centre.
It plans to create up to 180 jobs at the centre over the next three years.
The initial recruitment phase for the base, which is due to be officially opened in the autumn, is already under way.
The company said it expected to be employing about 40 engineering staff by July/August, with the potential to grow this to more than 100 by the end of this year.
The centre is receiving £1.5m in regional selective assistance to support its development on the outskirts of Glasgow.
'Huge boost'
First Minister Alex Salmond, who met Gamesa executives during an official trade visit to Bilbao last September, said the company's decision was "a huge boost for the Greater Glasgow area and for Scotland's rapidly growing renewable energy sector".
Mr Calvet said the centre represented an important step in his firm's offshore wind market strategy.
He added: "Our offshore plans could generate significant local, skilled and sustainable jobs over the coming years. I would like to recognise the support and commitment from the Scottish government and its development agencies during the ongoing discussions around these investment plans."
Gamesa has also been in talks to establish a logistics and manufacturing centre in Dundee, which could add up to 170 jobs.
The company - which is working to launch two offshore platforms - has said it plans to invest more than 150m euros in the UK by 2014.
Gamesa has indicated they are prepared to invest about 50m euros and create 300 direct jobs in Scotland if, among other things, it secures government support and there are sites available for prototypes.