Scottish internet domain name bid launched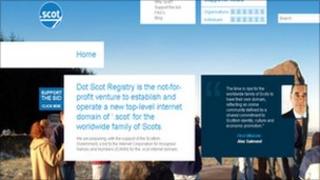 Campaigners are launching a bid to secure Scotland's own internet domain name.
The move by Dot Scot Registry follows a decision by a global internet body to allow the creation of new website domain suffixes.
The Internet Corporation for Assigned Names and Numbers (Icann) plans to dramatically increase the number of domain endings from the current 22.
The Scottish government said it supported the bid for a .scot domain.
Dot Scot Registry was set up in 2009 to try to establish and operate a new generic top-level domain (gTLD) to represent an online identity for Scots at home and abroad.
It includes representatives from the information and communication technologies (ICT) industry and groups bidding to form creative and cultural links between Scotland and its global community.
Directors of Dot Scot Registry include Harry McGrath, director of Cultural Connect Scotland and Polly Purvis, executive director of the trade body for the ICT industry, ScotlandIS.
The not-for-profit registry confirmed on Friday it would apply for the .scot suffix to Icann, which has said it would begin taking applications for TLDs early next year.
Groundwork
In a statement, Dot Scot Registry it had been working, with the support of the Scottish government, on preparing the ground for an application for some time.
It continued: "Following Icann's announcement this week, we can now move forward with the application, and are consulting with technical partners to progress this over the next six months to be ready for the 12 January 2012 opening date for new TLDs.
"We will also continue to engage with the community of Scots, here and around the world, to gather their support for the introduction of a .scot domain.
"We are progressing matters quickly and will be in a position to update on our progress toward delivering the new domain for Scots and Scotland later in the summer."
Several hundred new generic top-level domain names (gTLDs) are expected to be created by Icann in the new process.
There are currently 22 gTLDs, as well as about 250 country-level domain names such as .uk or .de.
Icann has said it will cost $185,000 (£114,000) to apply for domain suffixes, and applicants would need to show they have a legitimate claim to the name they are buying.
Scottish domain
Research carried out by the Office of the Chief Researcher several years ago suggested the majority of Scottish organisations and institutions (58%) backed the principle of a Scottish domain.
In a statement, the Scottish government said: "Dot Scot Registry was created in 2009 to apply for and operate a .scot domain intended to represent Scottish identity and culture on the worldwide web.
"The Scottish government supports their bid to establish the .scot domain."
First Minister Alex Salmond first backed the move in 2008 during a visit to the Spanish region of Catalonia, which had been granted its own .cat domain name.
He said then the time was "ripe for the worldwide family of Scots to have their own domain reflecting an online community defined by a shared commitment to Scottish identity, culture and economic promotion".
Scottish business leaders also welcomed the move by Dot Scot Registry.
Garry Clark, head of policy and public affairs for the Scottish Chambers of Commerce, said: "I certainly think it will give the brand 'Scotland' more identity.
"Anything we can do to push that strong brand is going to be extremely welcome in years to come."