Schuh workers to share windfall worth millions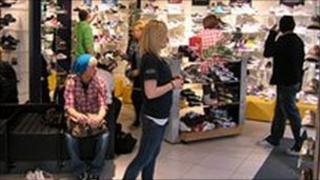 Workers at the Livingston-based footwear company, Schuh, are to share in a windfall of more than £37m.
The payments were announced after a takeover of the firm by the US group Genesco in a deal worth more £125m.
More than two thousand workers will be eligible for the pay-outs which will average about £16,000.
Schuh's two biggest shareholders stand to gain up to £25m each from the sale, and will continue to run the business for its new Nashville-based owners.
Chief executive Colin Temple and finance director Mark Crutchley have substantial shareholdings, and will be awarded the bonus if the company meets its targets over the next few years.
A total of 2,800 staff work for the company in its 59 stores and 16 concession shops in the UK.
About 2,300 will be eligble for a pay-out but the amount will depend on the length of service and annual salary.
A further £7m is also going to set up a charity, the Schuh Trust.
A Tennessee-based retailer, Genesco sells footwear and sportswear in more than 2,285 stores throughout the US and Canada and owns the Journeys shoe chain.
Colin Temple said: "This partnership marks a significant step change for Schuh as we embark on our objectives to accelerate our growth plans and expand our network throughout the UK.
"Schuh has gained significant market share in recent years due to a strong product assortment and a growing store base."
He added: "Importantly, we are very pleased to be able to distribute £37.3m to our employees whose hard work and dedication has been instrumental to Schuh's success."
Robert J. Dennis, chairman, president and chief executive of Genesco, said: "Schuh provides us with an immediate and established retail presence in the United Kingdom, a highly experienced international management team, and improved insight into global fashion trends.
"Financially, the Schuh business is compelling, with attractive store economics and solid growth prospects."