Scottish developer Macdonald Estates reports first loss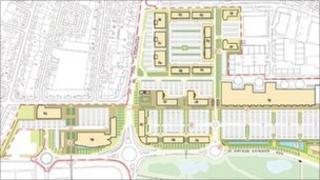 Macdonald Estates, one of Scotland's largest property developers, has reported its first loss.
Dan MacDonald, founder and CEO of the the Edinburgh-based company, has seen profits slide from £5.2m in 2007 to a loss of £760,000 last year.
However, the company is on course for a return to profit with seven new property projects worth £125m.
It avoided the worst of the property downturn by avoiding debt finance and choosing not to hold a land bank.
It has put planned developments on hold in Ayr, Glenrothes and Falkirk.
But having "reinvented its business strategy", the company has had fast-track approval for a new Morrison's supermarket in Glasgow Gallowgate.
Also this summer, it is starting work on a new student residential block in the city's West End and a new Asda store in Arbroath.
Another four projects are scheduled for next year in Moray, Fife, Midlothian and Dundee, together valued at £85m.
These include a sea-front development of homes in Kirkcaldy, also comprising retail, next to the proposed hovercraft terminal.
The Dundee plan is for an Asda supermarket, although that planning application is being challenged by retail rivals Tesco, with a third legal appeal going to the UK Supreme Court.
National development plan
Mr Macdonald said the property development is suffering from a lack of lending by banks, and a refusal by them to release the land assets they have built up from collapsed developer companies during the downturn.
It is argued banks want to avoid forcing down land asset valuations if they put put them on the market.
The chief executive, who founded Macdonald Estates in 1998, said the finances of development have changed fundamentally with the downturn, and that the zoning of former industrial sites will have to be reconsidered.
He believes Scotland needs a national plan for development and infrastructure, with new areas of land to be made available for housing, possibly including greenbelt land.
He also said speculative building projects are unlikely in the current market, and that projects will depend on demand. Housing will be less high density when the market recovers, he argued, and it is the large supermarkets who hold the key to continuing business at present.
There was criticism of several councils being slow to handle planning applications. Glasgow, by contrast, approved the Gallowgate project within 16 weeks, as it was seen as valuable to the city's economic development.
"We have worked vigorously over the past three years to overcome crisis in our industry," Mr Macdonald said.
"We have secured funding solutions outwith the traditional banks and this allows us to bring forward important projects.
"We've lifted the business above wrestling with futile, inoperative and unviable sites which now exist because of the changes upon us.
"Illiquidity and lack of demand has devalued property and land development potential to unprecedented lows and even negative values".