Weir Group acquires South Korean valves business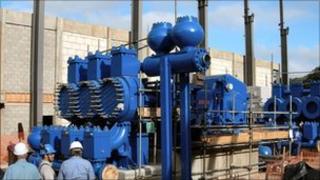 Glasgow engineering firm Weir Group has continued on the acquisition trail by taking a majority stake in a South Korean valves business.
Weir said it had agreed to acquire 60% of a new company formerly operated by HIM Tech Co Ltd.
Transaction details have not been released but the Korean business posted sales of $10.5m (£6.5m) in 2010.
Last year Weir made five acquisitions as part of an effort to increase its exposure to emerging markets.
They included Malaysia-based specialist rubber company Linatex in a deal worth £138m.
In its latest acquisition, Weir will take a majority stake in a new company, Weir International, into which the HIM Tech valves business has been transferred.
Located near Seoul, the Korean business designs and manufactures control and choke valves for service power generation and oil and gas applications.
As well as domestic customers, its products are supplied to major South Korean engineering contractors for international projects.
Weir chief executive Keith Cochrane said: "This acquisition in South Korea, one of the 'next 11' high-growth economies, increases our global capability, allowing us to add local content in Korea and provides strong links to a number of important Korean contractors who supply both the home and international markets.
"The team at HIM Tech, led by Heang Hoon Cho, are already well known to us as trading partners. In recent months we have been collaborating on a number of initiatives which we expect will generate new orders for our global valves business."
The transaction is expected to be completed in July.
Weir employs more than 10,000 people worldwide, mostly in the oil and gas and mining industries.