French group invests in Scottish wave energy firm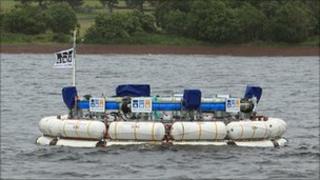 A pioneering Scottish wave energy firm has secured a multi-millon pound investment from French engineering giant, Alstom.
Alstom has taken a 40% stake in Inverness-based AWS Ocean Energy, although precise details of the transaction have not been released.
AWS said the investment would allow it to double its workforce to about 30 over the next 12 months.
It will also help the firm accelerate development of its technology.
Alstom becomes a shareholder in AWS along with a ventures fund, managed by Kenda Capital, and Scottish Enterprise.
It is the French group's first-ever investment in the wave energy sector.
AWS Ocean Energy currently employs 14 people, primarily engineering and research analysts. Recruitment has now started for a further 15 "mainly high-level engineering jobs".
Its lead product - the AWS-III - is a ring-shaped multi-cell surface-floating wave power system and has evolved from technology first deployed and tested in Portugal in 2004.
A single utility-scale device, measuring about 60m in diameter, is expected to be capable of generating up to 2.5 MW of continuous power.
Prototype
A small-scale prototype of the AWS-III was trialled last year on Loch Ness and the company aims to deploy its first device in 2013-14.
Alstom's executive Philippe Cochet said: "Having reviewed many different technologies, and undertaken further detailed analysis with the most promising, we are absolutely confident that AWS-III is a technology that perfectly complements our existing ocean activities - tidal energy and offshore wind - while further reinforcing Alstom's position as a leading supplier of clean energy solutions."
Simon Grey, AWS chief executive, said Alstom's investment was a "significant boost" for his firm and for Scotland's wave energy sector as a whole.
He said: "Alstom's decision to invest in our company, as well as the support of the Scottish government, are endorsements of what we have achieved so far, and a major source of motivation to accelerate the commercial development of our technology.
"With Alstom as a major backer, AWS Ocean Energy has a delivery capability which our utility customers will need in order to realise their major wave energy projects in Scotland and elsewhere."
Recruitment drive
Mr Grey added: "Alstom's investment provides us with the stability we need in order to attract top talent to work for us and so today we are launching a recruitment campaign to expand our engineering team at Inverness."
First Minister Alex Salmond said it was a "hugely significant investment announcement" that brought together a pioneering Scottish marine energy developer with one of the world's leading power generation and transmission companies.
He added: "It is a strong vote of confidence in the innovation and engineering capabilities of AWS and their partners and underlines the growing strength of Scotland's renewables industry as we look to harness our unrivalled wave, tidal and wind sources."