Ralph Lauren appeals Glasgow shop ruling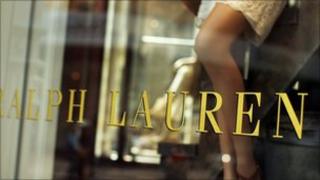 The high-end fashion house Ralph Lauren is to appeal a decision allowing a hairdresser to move into a shop next door to it in Glasgow.
The luxury retailer had objected to plans by John Quinn Salons to open a branch in Ingram Street in the city.
It claimed it had a contract which allowed it to dictate the types of businesses which could operate in the same area as it.
However a court did not agree and refused to issue an interim interdict.
Ralph Lauren had appealed to the Court of Session in Edinburgh to issue the order banning the area's landlord, a pension fund, from letting a hairdresser set up in a vacant shop unit.
Lawyers for the fashion retailer claimed it had a right to make sure that "premises in the immediate locale are only occupied by high quality fashion retailers" and they said that a hair salon did not meet that test.
In his judgement, Lord Glennie noted that adjacent businesses included "Gant Clothing, Mulberry, Agent Provocateur, Jaeger and Crombie - all of whom are recognised high quality fashion retailers".
However he said it was "nigh impossible to describe a hair dressing salon as a retailer".
Craig Connal QC, a solicitor advocate at law firm McGrigors has been observing the case.
He said: "It is natural and understandable for a high-end fashion house to seek to do everything within its power to protect its brand.
"However, in this instance it would seem that the approach has not worked as intended."
He added: "The opinion of Lord Glennie also indicates that the unit in question has been unoccupied for almost 10 years, so there is also a question as to whether an occupied unit would be better all round than an empty one."
An appeal hearing is scheduled for Wednesday afternoon.