Scottish salmon producers set growth targets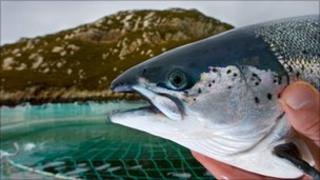 Scottish salmon producers have set ambitious growth targets for the next 10 years to keep pace with demand.
The Scottish Salmon Producers' Organisation (SSPO) hope to achieve growth of 4% a year to reach annual production of 210,000 tonnes by 2020.
The body said it hoped to meet the targets in part by adopting the best in advanced science and technology.
The salmon sector is currently celebrating the 40th anniversary of the first commercial farms in Scotland.
SSPO chairman Professor Phil Thomas said it was a year of celebration for the Scottish salmon industry, but also a year of planning for the future.
He said: "The first commercial harvest of Scottish salmon was 14 tonnes back in 1971. Now, farmers grow 144,000 tonnes and it has become Scotland's single largest food export.
"The next phase of development includes a sustainable growth in production over the next 10 years."
The organisation's latest annual report has highlighted an all-time low in the number of fish lost to escape incidents, novel research into the use of another fish, wrasse, to mitigate the effects of sea lice and the launch of a revised code of good practice during 2010.
Scott Landsburgh, SSPO chief executive, said: "Forty years ago some people hailed the salmon industry as the 'replacement for the oil bonanza', whilst others questioned the credibility of the technology involved.
"We may not have matched the oil industry's revenue - although two of our companies now feature strongly on Scotland's top 120 companies list - but we have stood the test of time.
"We would now like to grow steadily and responsibly over the next 10 years to effectively increase production by half to keep pace with growing global demand."
He added: "The industry is confident and prepared to meet the challenges ahead. It is committed to adopting the best in advanced science and technology to maintain its position as a leading Scottish food sector."