Scottish & Newcastlle pensioners claim 'raw deal'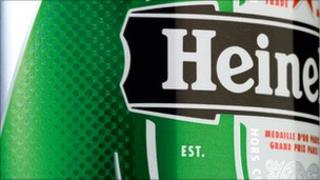 Pensioners from the former Scottish & Newcastle (S&N) brewery have claimed the company's new owner, Heineken, has not honoured pension promises.
The pensioners said they were assured their benefits would not be affected when S&N was bought over in 2008.
However they claimed this was no longer the case and called on politicians to investigate.
Heineken insisted it was a responsible employer and said it had "certainly not broken any commitments to pensioners".
The S&N pensions group said Heineken gave a public undertaking at the time of the takeover that there was "a practice of providing dicretionary pension increases each year" which were in line with inflation and that it was "Heineken's intention to continue this practice".
The group said it was told last year that there would be no discretionary increase and was not given any explanation why.
Tom Ward, former S&N corporate development director and spokesperson for the group, said: "To now make a U-turn on their very public undertaking to follow S&N's many decades of company practice in applying inflationary increases to pensions is deeply offensive.
"This is a major issue for pensioners - we have been given a raw deal and treated unfairly and dishonourably."
He added: "The continuation of this decision will lead to the rapid devaluation of pensions and potential hardship for many thousands of loyal employees who worked hard to build S&N into the business that was so attractive to Heineken."
'Discretionary decision'
The pensioner group has written to the chairman of Westminster's business, innovation and skills select committee, asking him to investigate.
A Heineken spokesman commented: "The discretionary decision we took last year was based on the outlook for our fund at that time, and will be reviewed again later this year.
"We have put in place a strong recovery plan for our pension fund, including significant cash injections peaking at £61m per annum in 2014."
He added: "Of course, we understand the strength of feeling amongst those who did not receive pension increases this year.
"We are happy to continue a dialogue with them, and of course justify our actions to any relevant body who wished to review the matter."