SeaEnergy sells offshore wind unit to Repsol for £40m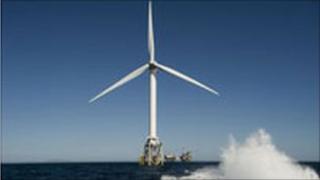 Aberdeen-based SeaEnergy is selling its offshore wind unit to Spanish oil giant Repsol in a deal worth nearly £40m.
The firm is disposing of its entire 80.13% interest in SeaEnergy Renewables Limited (Serl) as it shifts its focus to oil, gas and marine services.
Serl has an interest in three offshore wind farm sites off the Scottish coast.
The deal will see SeaEnergy receive a cash consideration of £30.7m along with full recovery of its £8.1m investment in Serl.
SeaEnergy, which will net £29.1m after deal costs and loan repayments, said the deal valued Serl at about £50m.
The company said the transaction was still subject to shareholder approval.
The AIM-listed firm's share price plunged by more than a third on news of the sale.
Serl has been loss-making since it was created three years ago by SeaEnergy.
Serl currently holds 25% stakes in the Beatrice project in the Outer Moray Firth and the Inch Cape park in the outer Firth of Tay.
The subsidiary also won rights to develop a site under the latest round of the UK's offshore wind program.
In a market statement, SeaEnergy said it would now focus on its existing assets, in particular its offshore renewables marine services business SeaEnergy Marine.
The company also said it expected to continue to be active in both the offshore renewables and oil and gas sectors.
'Capitalise on success'
Steve Remp, SeaEnergy's executive chairman: "We created a business out of nothing but a concept, and three years later it has been valued at £50m.
"The time is right for us to capitalise on this success.
"This deal allows us to continue to participate in the fast-growing UK and European offshore wind markets, and to build on our enviable track record of working with some of the world's biggest companies."
Mr Remp said his firm believed its nascent marine business had a "unique vessel concept that will make a material difference to the commercial economics of offshore wind".
He added: "We look forward to pursuing this exciting opportunity, and to seeking out other projects to leverage our expertise."