Oil and Gas UK's survey warns over new oil tax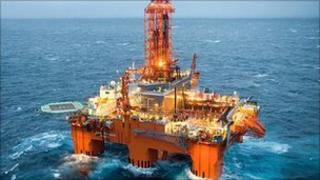 The tax hike in the budget on oil companies threatens some major North Sea projects, according to a new study.
Oil and Gas UK has carried out an urgent survey of its members and says many are reconsidering their plans.
It said of the 240 potential projects, 60 would have less of a chance of going ahead than before the budget.
Oil and Gas UK said that accounted for £22bn worth of investment and means the UK could lose out on about 15,000 new jobs.
Chancellor George Osborne raised the supplementary tax on North Sea oil production from 20% to 32%.
The move, in his budget in March, was designed to fund a cut in fuel duty.
Energy gap
Oil and Gas UK said since the announcement "at least 25 projects which account for over a billion barrels of oil and gas and investment worth £12 billion are unlikely to go ahead and the lives of at least 20 producing fields will be shortened by up to five years".
The industry body said the findings were similar to those produced in a report from a group of economist from Aberdeen University.
It warned that not only would the country lose out on new jobs but "also on oil and gas production equating to over a year's domestic supply" and to fill that gap £50bn worth of energy imports would be needed.
Oil and Gas UK's chief executive, Malcolm Webb, said: "Whilst we fully appreciate the financial difficulties which the government now faces, reserves left in the ground will not generate any tax revenues and we estimate that direct tax receipts of £15-20 billion will be foregone if the newly marginalised projects do not proceed."
Oil and Gas UK is calling on the government to engage with it to find ways to rebuild investor confidence.