Largs marine firm to expand fleet with £20m funding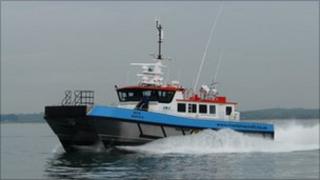 Maritime Craft Services has secured bank funding of more than £20m to expand its fleet of support vessels.
The package will see the addition of four boats to MCS' existing fleet of nine support vessels.
It will also mean a further expansion of its core services to the offshore wind farm industry.
The Largs-based firm has provided support vessels to the marine construction, offshore renewables and dredging industries since 1977.
The funding has been delivered as part of Clydesdale Bank's Investing for Growth strategy.
The bank announced on Tuesday that it had seen new business lending grow by 62% in the first six months of its financial year.
Workboats
The new 18-metre crew transfer vessels, MCS Zephyr and MCS Maestro, which are designed to support wind farm construction, installation and maintenance, have started work in European waters.
The funding is also being used to buy a 26-metre Damen Shoalbuster workboat and a Damen Multicat 2611.
MCS employs more than 110 staff, including 65 seafarers as well as 10 onshore administration staff at its Largs offices.
The expansion of the company's fleet is expected to increase turnover to about £13m in 2012.
Dirk Kuyt, managing director of MCS, said: "Following the traditionally quiet winter period across the European market, the marine sector is now looking fairly buoyant and we're experiencing strong demand for our vessels."