Competition hits Robert Wiseman profits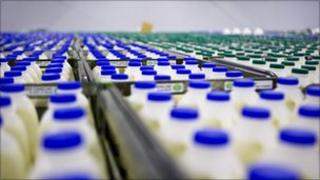 The dairy group, Robert Wiseman has reported a 30% drop in profits to £34m.
The East Kilbride firm said all the major retailers had put milk contracts out to tender and that had increased competition and squeezed margins.
The company said the rising cost of raw materials had also hit profits and led to it increasing the prices it charged.
During the last year Wiseman completed its Bridgewater site in Somerset and said it could now supply customers in every postcode area in Britain.
The group currently processes and delivers more than 30% of the fresh milk consumed in Britain every day.
Although it described economic and market conditions during the last year as "challenging", it said its drop in profits was in line with what it expected.
The firm said the outcome of the tendering process meant it either grew or retained its business with all its key customers.
In the case of Tesco, Wiseman had increased the amount it supplied by 10% and had won a contract to supply all of the Co-op's milk from August 2011.
Record volumes
The company said for the first time it had "achieved the milestone" of producing over one billion plastic cartons of fresh milk.
The company said the rising costs of fuel and raw materials had also hit dairy farmers and this meant it had to pay its suppliers higher prices.
Wiseman said it had to pass on the increased costs it had been facing but said "given the widely acknowledged challenges facing retailers, caused by the overall economic environment, this has proved to be a complicated and difficult process".
Earlier this year the company announced it was to close its sites in Okehampton and Cupar and said it would continue to find further "efficiencies".
Robert Wiseman, executive chairman, said: "Despite oil-related headwinds our business remains strong, profitable and cash generative and we are focused on reinforcing our position as the most efficient company in the fresh milk sector."