RBG oil services firm sold to Stork Technical Services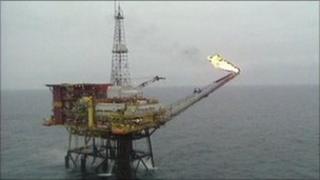 One of Aberdeen's largest oil services companies has been bought by a Dutch firm.
RBG employs 4,900 people around the world, about 3,000 of them in Scotland, and specialises in inspection and repair of oil rigs and platforms.
It was purchased by Netherlands-based Stork Technical Services, which had revenues of £870m last year.
RBG brought in about £300m last year, with international earnings trebling over the past seven years.
Stork Technical Services' private equity partner investor is Arle, parent company of Candover Fund.
Parties to the deal have refused to reveal its value or how it has been structured, but it was reported the company was valued late last year at about £200m.
Deepwater facility
RBG was formed from a merger in 2004 of three other North Sea companies - Rigblast, MESL and Mach-Ten.
Its UK activities include the deepwater facility at Invergordon in Easter Ross and operations in Aberdeen, Liverpool, Humberside and Tees-side.
Its next biggest operations are in Azerbaijan and Kazakhstan, with more than 800 employees, and Trinidad and Tobago, where nearly 500 people are employed by RBG.
It has smaller operations in the US Gulf of Mexico and Qatar, where its base is expanding into four other Persian Gulf states.
Half of its shareholding has been with Aberdeen-based Ashley Group, majority owned by RBG chairman John Ray, who stands to secure tens of millions of pounds from the sale.
Its skills in inspections, access and rig fabric maintenance for the oil and gas sector, and power and chemicals industries, are seen as a strong fit with Stork's existing specialisms, and they are in demand as old assets are given extended lifespans.
RBG also offers skills in decommissioning offshore platforms, which is a sector expected to grow rapidly.
Dave Workman, RBG chief executive, said: "This deal marks the next stage of our journey, bringing greater opportunities for our employees and significant benefits to our clients through the delivery of an enhanced and unrivalled service capability.
"I have no doubt that this is a positive move for all."
Sjoerd Vollebregt, Stork chief executive, said the acquisition was an "exciting milestone in the group's growth strategy".
"At Stork, we will continue to foster and support the entrepreneurial success story of Stork Technical Services, thereby reinvigorating the historic values that this company was built on," he said.