Cuts hit Johnston Press revenues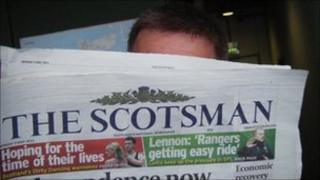 One of the country's largest newspaper groups, Johnston Press, has reported a 10.6% drop in advertising this year.
The Edinburgh-based group, which owns The Scotsman and a string of local papers, said public sector cuts led to a 30% fall in job advertising revenues.
However the rate of decline was beginning to slow, it said.
Johnston said the cost of newsprint continued to be much higher than last year but it was mitigating against this through "cost management".
The company has already announced year-on-year savings of about £5m.
Johnston said it was also encouraged by the launch of a new business directory in March and anticipated full-year results would be in line with market expectations.