Scottish businesses report rising orders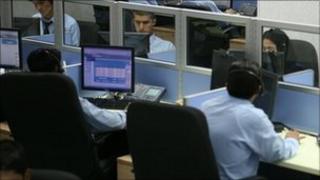 Scottish businesses registered a strengthening pace of growth last month, latest figures suggest.
The Bank of Scotland's purchasing managers index (PMI) has risen since March and at a faster rate than the rest of the UK.
In seven out of nine English regions, growth slowed.
New orders for Scottish businesses were up for the fourth consecutive month, but job creation has slowed and inflation pressures remain strong.
The Bank of Scotland survey found the weakest performing sector was tourism and leisure, while manufacturing exports remained relatively strong.
The bank monitors activity in the manufacturing and service industries on a monthly basis.
Overall, the pace of new business growth for April was unchanged on March's three-and-a-half year high.
Donald MacRae, chief economist at Bank of Scotland, said: "The latest PMI shows that the recovery is back on track with a fourth consecutive month of expansion.
"The latest PMI data also continued to highlight marked growth in new orders.
"It is particularly pleasing to see broad-based growth across both the services and manufacturing sectors."
Anecdotal evidence from survey respondents was also said to indicate improving market conditions, successful promotional campaigns and strong export sales had all contributed to the rise.