Weir Group lifts profit forecast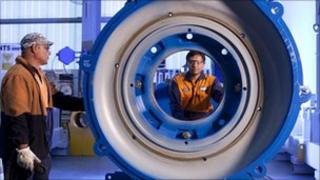 Glasgow engineering firm Weir Group has reported a strong start to 2011.
The company said a number of acquisitions it made last year helped increase orders by 39% in the first three months of the year.
Weir plans to double its 2009 profits in the next five years and said the current year's results would be £20m ahead of expectations.
In a statement the group announced "record quarterly orders for the minerals and oil and gas divisions".
Orders in its oil and gas business were up 129% and Weir said it was stepping up a £25m investment in its Fort Worth site in Texas.
The expected £20m increase in profits this year represents a rise of 6% on the company's original forecast.