Scottish election: Manifesto pledges 'lead to cuts'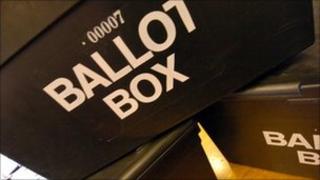 Economists have warned that policies outlined in party manifestos are likely to lead to significant public sector job cuts over the next four years.
The report has been released by the Centre for Public Policy for Regions (CPRR) at Glasgow University.
It said SNP and Labour efficiencies were likely to result in job cuts of 7% in the public sector, excluding health.
The SNP said there were "key weaknesses in the CPPR analysis". Labour said it was a "devastating report" for the SNP.
Most of those remaining in government work would see the value of their earnings fall by at least 6% in real terms, the report said.
The effects of the spending squeeze have played only a limited role in the campaign so far, as parties have tussled over the areas where they want to spend more.
But throughout the campaign, CPRR has issued a series of warnings that parties' planning for handling the sharp squeeze in Holyrood's budget had elements of wishful thinking.
The economists also claimed that those earning more than £21,000 were likely to see their salaries' spending power reduced by at least 6% over the next four years, as pay is either frozen or fails to keep pace with inflation.
'Economic credibility'
The academics said the next government was likely to be formed on the basis of pledges that had been "little scrutinised", with "uncertain costings", and intended to protect some spending without addressing economic challenges.
However, both the SNP and Labour defended their manifestos.
SNP finance spokesman John Swinney said: "The SNP government balanced the books for the last four years running, and we exceeded our efficiency savings targets in each year of the last parliament, while maintaining a policy of no compulsory redundancies.
"We will have delivered well over £1.6bn in efficiencies in 2010/11, and a re-elected SNP government will build on that record of knowledge and achievement."
Mr Swinney also said that the CPPR wanted to take Scottish Water out of public ownership, and that their analysis reflected this "privatisation agenda".
He added: "There are also some key weaknesses in the CPPR analysis, including a presentation that misses out over £700m of programme specific savings identified by the SNP."
David Whitton, Labour finance spokesman, said: "This is a devastating report for the SNP that blows apart their economic credibility in one fell swoop. It exposes the hollow heart of the SNP spending plans.
"Scottish Labour is the only party that shows a surplus over the next four years without relying on generic efficiency savings or future borrowing powers."
He added: "By contrast, Labour will cut out wasteful SNP spending to pay for our urgent priorities in health, education and crime."