Virgin Money's Gadhia looks to 'transparent' future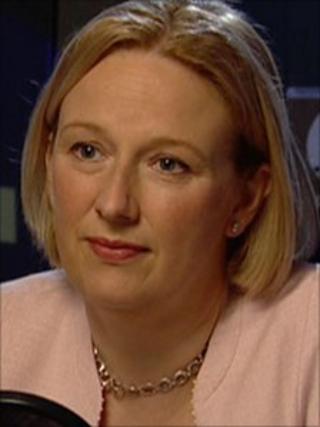 As Virgin Money prepares to move its headquarters to Edinburgh, Douglas Fraser, presenter of BBC Radio Scotland's programme Business Scotland, spoke to its chief executive about her vision for the "transparent" bank's role in UK finance.
Virgin Money is seen as one of the challengers to the "big five" that currently dominate high street banking in Britain.
Along with Tesco Bank, it has chosen Edinburgh as the location for its new headquarters, drawing on the city's financial skills as Royal Bank of Scotland and Bank of Scotland shed staff.
The Independent Commission on Banking last week said there should be more action to open up competition in banking, and Virgin Money chief executive Jayne-Anne Gadhia is enthusiastic about exploiting those reforms.
The chartered accountant joined Virgin when Richard Branson started offering financial products in 1995.
She left for Royal Bank of Scotland in 2001, and worked for Sir Fred Goodwin until 2006, when she returned to the top job at Virgin Money, and the next year became involved in Branson's attempt to buy the stricken Northern Rock.
What's the proposition and the niche Virgin Money's aiming at?
At the moment we have more than 3 million customers around the UK. In Scotland, 8 or 9% of Scots have a Virgin product already. So hopefully it's more than a niche.
We think banking has to go back to the future, and build on great customer relationships, giving customers the opportunity to deal with Virgin bank in a way that suits them best.
For many customers, that will mean they want to pop into a branch to see someone face-to-face, or they want to check on a product online, or through digital technology as that becomes more accessible.
Is the emphasis on innovation or on providing simple products?
I'm disappointed in hearing people say there's no new banking products left to design, but in a sense that's true. People want to borrow or save money, or have a current account that lets them transact relatively straight-forwardly.
For me, real innovation means helping people to be very clear what it is they're buying. Transparency is key, and banks have been very bad at that.
MPs and the Independent Commission on Banking, chaired by Sir John Vickers, are pushing for more competition - so what is it that's holding back Virgin?
Banking in the UK is an oligopoly. There are five big banks. They have total dominance over the current account market. It's very difficult for any competitor to be sufficiently significant to really challenge them, and to provide the majority of customers with a genuine alternative.
We see ourselves as building a bank for the next hundred years, and not just for the next ten years. We will grow sufficient scale and size to be able to challenge those banks.
Why is there so little switching of customer accounts?
The five big banks are much of a muchness, so people can't understand what difference in service they'd get if they went from bank A to bank B.
Transparency would help with that. They feel they could have their standing orders and direct debit left behind, because it's not straight-forward to transfer your account from one bank to another.
I have been pushing to have a portable account number, like one national insurance number for every employer, and one telephone number you can take with you whichever provider.
Should the Vickers commission go further?
They are suggesting there should be a single enormous competitor, that means we then have six big banks in the UK. We think new competition should encourage two or three medium-size competitors so there's a broader base of competition in the UK.
They've got the balance right between creating a safer banking system, without being so onerous that the big banks want to leave the UK. The really key point is that, in talking about competition, we need to understand how the Vickers commission findings are going to be implemented.
There have been 22 recent inquiries into banking in the last few years, and not all of these have found their way into action. I think it's really really important that this time, real action is taken.
We've all known in the industry and beyond that increasing competition is important and yet RBS branches in the UK were sold (under instructions from the European Commission) to Santander, with the blessing of the competition authorities. I believe that was a massively lost opportunity for our country. We all have to make sure that that sort of lost opportunity doesn't happen in the asset disposals ahead.
How did you get involved with Virgin?
I was on a train from Norwich to London to see a friend of mine, and I happened to be reading Hello magazine. There was an article about Richard Branson in it. When I met my friend, he had recently met Richard. He introduced me to Richard and I started to work for Virgin not long after that.
What appeals about banking?
It's obvious, given the crisis, that banking is at the heart of everything we do in our society and economy. Customers haven't had a good deal for years.
I've felt with some of the service I've got over the years, you spend a lot of time queuing, you don't understand the product. Virgin can bring real simplicity, transparency and really great service, and that's what makes the difference.
What did you learn not to do from working for Sir Fred Goodwin at Royal Bank of Scotland?
At RBS, there was real drive to make sure profit was consistently growing, and at Virgin, we want to give shareholders sensible profit but not at all costs. We want to get the balance better between customers, staff and society.
I've been asked, after we looked at Northern Rock a couple of years ago, what would have been the difference between working for Sir Fred and for Richard Branson in looking at Northern Rock? The fundamental difference is that, at RBS, I'd have been told very clearly what was expected, whereas at Virgin, I'm asked how I can be helped.
Why choose Edinburgh for your headquarters?
There's so much skill and experience in Edinburgh. Over the last month, we've been advertising for the first in our growth in jobs. We advertised for 30 roles, and we had, in the first week, more than 1,000 applicants.
We'll be increasing the size of the business by about 250 people in total over the next 12 months, and most of those jobs will be in Edinburgh.
The full interview will be broadcast on BBC Radio Scotland's Business Scotland programme at 1005 BST on Sunday, 17 April. The programme will then be available on BBC iPlayer and the programme's podcast.