Scottish energy firm SSE sells three wind farms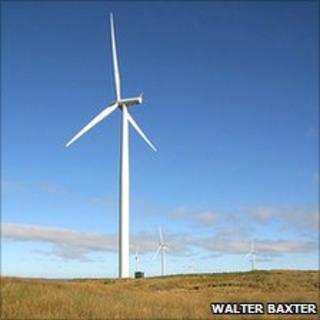 Scottish and Southern Energy (SSE) has sold three of its wind farms for a cash payment of £173.6m.
The Perth-based power company sold the wind farms, which have a total capacity of almost 100MW, to UK-based renewable energy company Infinis.
Two are based in Dumfries and Galloway - Dalswinton and Minsca - while the third is in Northern Ireland.
SSE, also known as Scottish Hydro-Electric, said the move would optimise its wind farm portfolio.
Before the sale, electricity from its farms in Scotland - Dalswinton (30MW) and Minsca (36.8MW) - was being sold to a third party.
Power from Slieve Divena (30MW) in Northern Ireland will be sold to SSE via a new power purchase agreement.
SSE sold its interest in Ardrossan wind farm to Infinis in May 2010.
Gregor Alexander, SSE finance director, said: "While we are planning long-term growth of our wind energy portfolio throughout the UK and Ireland, we have always said that we will use disposals and acquisitions to optimise our wind farm portfolio, and this sale is consistent with that.
"I believe this is a good deal for SSE and Infinis, two companies with a strong commitment to renewable energy."
SSE recently announced it was planning to develop Scotland's first offshore wind turbine testing facility at Clydeport's Hunterston site in North Ayrshire.
The proposed new facility will be an extension of SSE's Glasgow-based Centre of Engineering Excellence for Renewable Energy (CEERE).
In partnership with leading turbine suppliers, it will be used to develop and test up to three prototypes for the next generation of offshore wind turbines.