Dairy firm, Robert Wiseman, warns of higher prices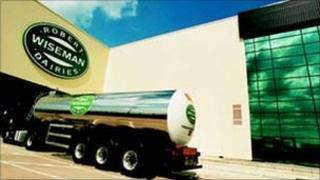 Robert Wiseman dairies has said it is pushing its customers, including major supermarkets, to pay higher prices to take account of its increased costs.
On Friday, the East Kilbride firm is to raise the price it is paying its farm suppliers, for the second time in two months, meaning a total increase of 8%.
It also warned it is facing higher prices in diesel and plastic packaging.
The company said it was unclear how much rising costs would affect full-year profits.
It has started negotiations with its customers, but since then input prices have gone up again, although the group said turnover and underlying profits for the year "would be in line with previous expectations".
In January, it also warned the "intensely competitive" market meant it was having to absorb increased prices from its farm suppliers.
In a trading update to the market, the East Kilbride-based company confirmed its plans to close a distribution depot in Cupar, Fife next month, and a dairy in Okehampton in Devon.