Scotgold Resources awarded conditional enterprise funds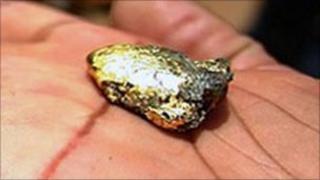 The company hoping to mine for gold near Ben Lui in the Trossachs has been awarded a £600,000 grant from Scottish Enterprise.
Scotgold Resources wants to redevelop the Cononish mine near Tyndrum in the Loch Lomond National Park.
The company has indicated its intention to reapply for planning permission after being turned down last August.
It has also lodged an appeal with Scottish ministers, with a decision expected later this year.
The Regional Selective Assistance grant is to be used in the establishment of the mine facilities and to create 52 full-time jobs at the mine.
It is conditional on Scotgold obtaining planning permission.
Chris Sangster, Scotgold director and CEO, said: "We are delighted at the magnitude and scope of assistance from Scottish Enterprise which will prove a significant benefit in the establishment of the mine at Cononish."
Scottish gold is reported to be amongst the most expensive in the world - a gram of it can cost more than five times the price of normal gold.
If plans work favourably for the company, it will be the first time the precious metal has been successfully extracted from a Scottish mine for more than 500 years.